News
New production hall to secure competitive pricing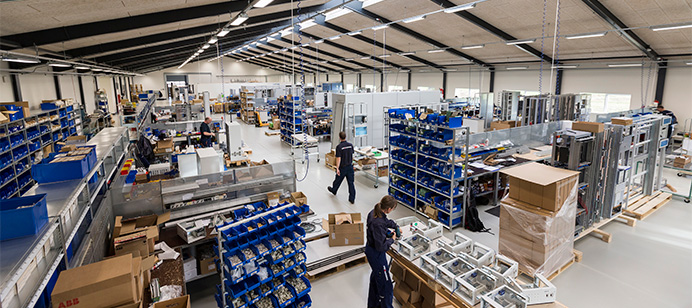 The new production hall in Holsted of 2000 m2

We have built a new production hall of 2000 m2, which is now fully up and running, enabling us to strengthen our competitiveness.


Maintaining production on Danish ground
The new facility is part of our strategy to keep production in Denmark, while maintaining a competitive price policy.
"While many Danish companies are moving their production abroad, we have chosen to keep our production in Denmark – all under one roof – to secure full control of quality throughout the entire production flow," says CEO Michael Schrøder and continues, "Due to the new facility, we have been able to optimise our production flow – to keep expenses down and continually be able to offer our customers a competitive price."


Streamlined production focusing on flow, standardization and specialisation
With the launch of a new production hall, we have not only been able to increase our production capacity. The new facility has also given cause for reconsidering all of our internal processes in the production.
Chief operations officer Sonni Tønder explains, "Launching a new facility has given cause for reviewing all of our processes in the production. Building on the classical principles of Lean Manufacturing, we have developed a simpler and more efficient production flow in order to reduce throughput time, materials handling time, waiting time and transportation."
As part of this process of standardisation, our production flow now consists of four segregated stages: 1) Building the panel body 2) Mounting of breakers and copper bars 3) Electrical installation 4) Quality and functional testing.
Sonni Tønder explains, "Introducing the four stages has helped us improve the standardisation of the production flow. Previously, each one of our assemblers would participate in several stages of the production flow. Now, each assembler is given a more specific responsibility, which has let to greater specialisation and efficiency across our production team."
According to Sonni Tønder, the new production facility has caused an increase in production volume and efficiency, while the same number of staff has been maintained.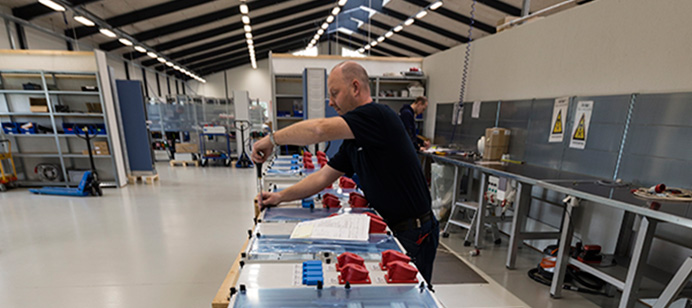 Flexible and environmentally friendly facilities
With a geothermal system, LED lighting, insulation in accordance with current regulation and so forth, the production hall has been designed and built environmentally friendly.
The geothermal system reaches above 5,0 in COP value, which ensures energy savings, a decrease in CO2 emission and less maintenance. The LED lighting is not only good for the environment, but also perfect for the production of electrical panels; the light casts no shadows on the work area and is on the level of surgical lighting.
In addition, the goal has been to ensure an excellent indoor climate. Sonni Tønder says, "In our new hall, floor heating pipes of 7km have been installed to create a more comfortable and consistent indoor climate. On to that, all of our heating installations are hidden so that they will not gather dust or dirt."
Sonni also explains how the organisation of the hall has increased flexibility in the work. Now each assembler has a longer work table of 6 meters, which allows for more space for electrical components and equipment. Also, the distance between each table has been increased, to make room for the production of larger electrical panels. In addition, all of the assemblers have been given a tool carriage so that they can move from one end of the hall to the other, to help out a colleague.
After the launch of the new facility, Pro-Automatic has a total production area of 6200 m2, which includes a large warehouse with all types of spare parts, a copper workshop, administration, etc.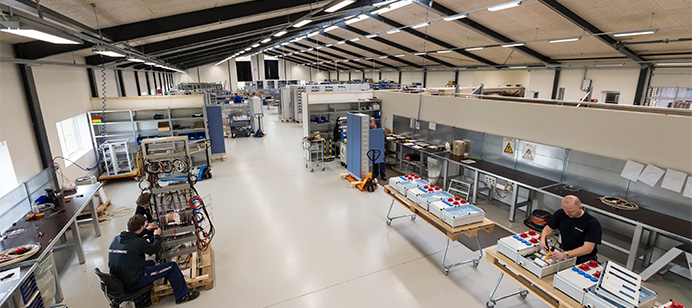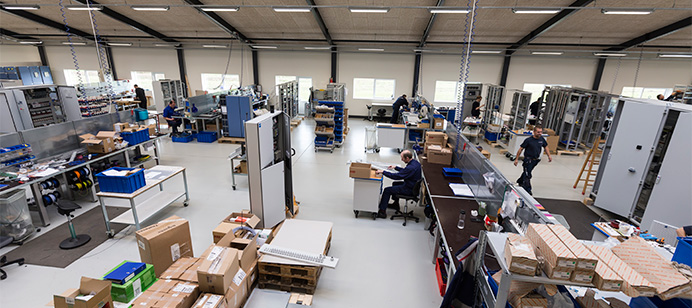 Contact
For more information about the new production hall, please contact chief of operations Sonni Tønder on tel. +45 75 39 11 00
or email This email address is being protected from spambots. You need JavaScript enabled to view it.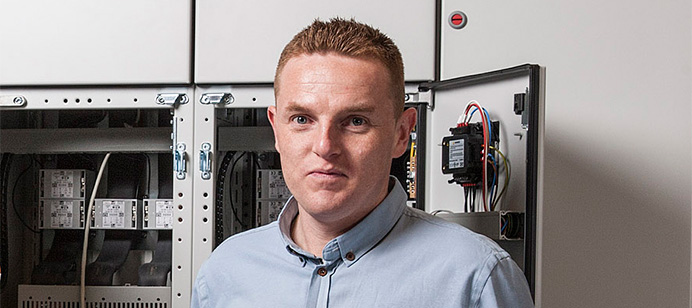 Chief of operations Sonni Tønder from Pro-Automatic