Mechanical panels


We offer custom construction of mechanical panels at competitive prices.
With our large, modern production facilities, we can provide mechanical panels in all sizes - also as series production - and we will gladly meet specific requirements for functionality, software integration and reliability.

We always thoroughly familiarize ourselves with the customer's needs, so we can create a user-friendly solution that meets all the customer's specification requirements. We are able to offer extensive industry-specific know-how thanks to our many years of collaboration with customers across all industries (including machine manufacturers and production companies).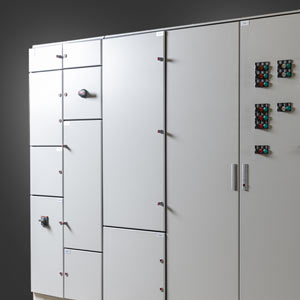 Flexible production with strict quality control
Since all of our production takes place in Denmark, we can change production quickly if, for example, customers need to change their specification requirements. With production under one roof, we can also keep an eye on quality throughout all phases of production. All workmanship is carried out with great care, internal components are from reputable suppliers and all mechanical panels undergo a thorough final inspection with testing of all functions. We also ensure delivery of complete documentation and complete marking.


Series production of mechanical panels
We can also offer series production of mechanical panels up to several hundred units. Efficiency is much higher in series production, which means that our customers are sure to get an even better unit price.
An overview of the benefits:
Highest quality – at competitive prices
Fast and accurate design
Danish production
High level of service, including access to professional expertise throughout the process
Complete documentation
Maximum flexibility with the best modular systems on the market
Guarantee of compliance with legal requirements, including 61439-series standards (read more about the standards here)


Applications
The industrial sector
Machine manufacturers
etc.