News
Pro-Automatic establishes a new nationwide service department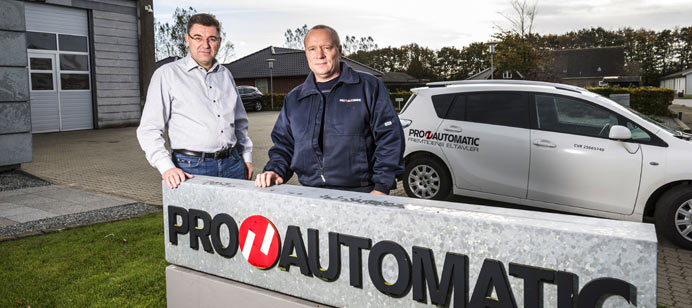 Pro-Automatic's Director, Michael Schrøder, together with Ejvind Hoff, who will manage the new service department.
In order to meet growing customer demand, Pro-Automatic has opened a new department specializing in inspection, conversion and expansion of existing switchboards. Based in both Hvidovre and Holsted, the department can serve customers throughout the country.


Gathering capabilities
The fact that Pro-Automatic provides services for existing switchboards is nothing new (including inspection, conversion and expansion). But with the establishment of a dedicated service department, the company's capabilities in the service of electrical panels will now be concentrated in a team of specialists and better targeted to customer needs.
"The new service department is part of our strategy to prepare ourselves for times when there is more activity," says director Michael Schrøder. "We are seeing an increasing demand for our expertise in the service of electrical panels and want to be an active partner who can deliver overall solutions of the highest quality, where production and service go hand in hand."
The new department offers everything in the range of inspections, refurbishment, expansion and ordinary maintenance for all types of distribution and control panels - including discontinued types, such as LK type 100/1000 and Domino. In addition, the department has a large parts inventory and offers the sale of components for the conversion and expansion of existing switchboards.
Ejvind Hoff as Head of Department
Ejvind Hoff joined us as head of this department in October and has four experienced service technicians on his team. Ejvind worked as a department head for Pro-Automatic previously and also has many years of experience as an electrician.
"I am very pleased to be leading this team, where we work together with customers, and electricians in particular, to solve their challenges and meet their specific needs," says Ejvind Hoff. "With many years of experience as an electrician, I am familiar with customer issues and the importance of being able to contribute with relevant expertise."


The Service Department's Core Services
Expansion and refurbishment of all types of existing electrical panels, including complete, updated documentation
Help with setting up, assembling and commissioning electrical panels
Inspection of breakers (main circuit breakers) and other panel components
Sales of loose parts and spare parts (all brands)
Advice on applicable electrical panel standards, including the new IEC 61439 standards
The Service Department technicians have experience servicing customers across industries, for example, in production companies, mega hospitals, power plants, housing associations, etc.
Contact
For more information about the new department, you can contact Director Michael Schrøder or the Department Head, Ejvind Hoff, at 29 41 15 89.
About Pro-Automatic
Pro-Automatic was founded in 1992 and is one of Denmark's leading electrical panel manufacturers today. The company delivers all types of electrical panels - from small series production panelboards to complicated control panels and distribution boards. With offices in Holsted and Hvidovre, Pro-Automatic also services existing switchboards and can make service calls for customers throughout the country.